AARA reporting and approving processes
Schools complete AARA applications and submit them to the QCAA via the QCAA Portal on behalf of students. Students and parents/carers consult with schools and provide required supporting documentation. Applications are submitted to the QCAA for assessment in Units 3 and 4 only. For assessment in Units 1 and 2, all AARA decisions and processes are school based.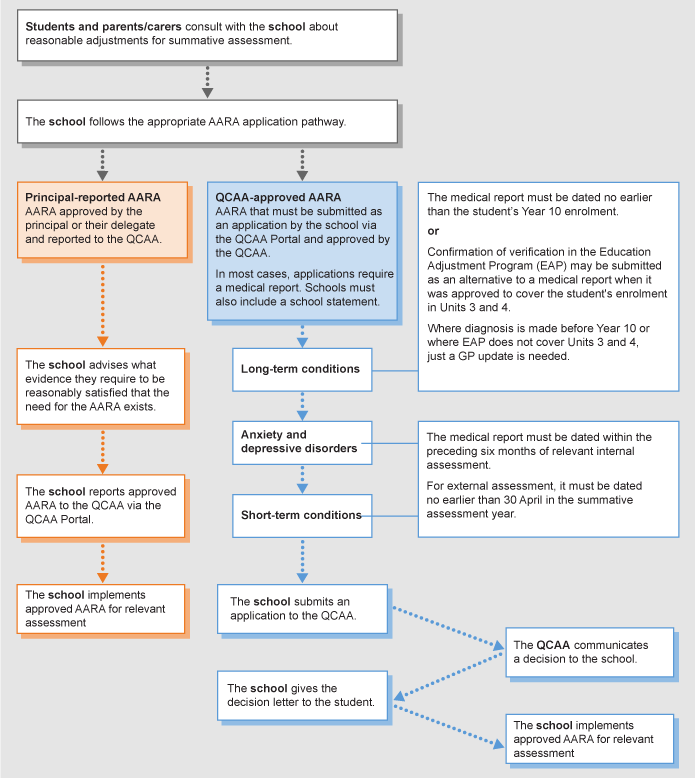 Detailed description of this diagram
Principal-reported AARA
Principal-reported AARA are specific practical arrangements and adjustments authorised by the principal or principal's delegate for an eligible student.
Assessment

Principal-reported AARA

Internal assessment

Alternative format papers*
Assistive technology*
Computer*
Assistance
Reader
Scribe
Comparable assessment
Extensions (for non-examination assessments)
Variation to venue

Internal and external assessment

Bite-sized food
Drink
Individual instructions
Medication
Diabetes management
Physical equipment and environment
Varied seating
Vision aids
*QCAA approval is required for these AARA only for the CIA (common internal assessment) for Applied (Essential) subjects.
QCAA-approved AARA
QCAA-approved AARA are specific practical arrangements and adjustments that must be approved by the QCAA.
Assessment

QCAA-reported AARA

Internal assessment

The common internal assessment (CIA) in Applied (Essential) subjects

Extra time
Rest breaks
Alternative format papers
Assistive technology
Computer

External assessment

Extra time
Rest breaks
Alternative format papers
Assistance
Assistive technology
Computer
Reader
Scribe
Variation to venue
Any adjustments not identified as principal-reported
More information
More AARA resources are available, including: